If you're looking for the weapons used by Dragon Busters, see Flintlocks
"Loading the Dragon pulse into thy flintlock, they release the Dragon's breath into their unlucky foe." -Welmina
A dragon's breath is unleashed from this hero's magic rifle.
---
The Dragon Buster is a class available to all base classes; Fighter, Thief, Cleric and Wizard. There is a prerequsite of being LEVEL 9 (raised from Lv2 as of May 17 2012) in your base class. As with all classes, the first time you change into this class you will be reset to level 1.
Dragon Buster Quests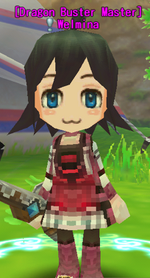 To become a Dragon Buster, you must speak with Welmina, the Dragon Buster Master. She is in the Dragonoid Camp in the South-West corner of Ateria Plains (N)
Welmina is at the bottom of the hill standing next to Yonan, the Dragonoid Clan Elder.
She will give you two quests to prove you are worthy and able to become a Dragon Buster.
Dragon Buster Qualification Test
Defeat 3 Sharon Plateau L11
Reward: 2400xp, Training Flintlock
Dragon Buster Trial
Defeat 3 Burn Ignis L3
Reward: Dragon Buster Class change rights
Upon completing these requirements you may report back to Welmina to unlock the ability to change freely into the Dragon Busterclass.
WARNING - All items will be unequipped and you will be reset to level 1. However, you may change back to your base class by opening the menu and selecting class change, and choosing your respective class. Dragon Busteritems will be unequipped in the process and you will have to equip your previous class respective items.
After becoming a Dragon Buster, you should speak to Farad, who is to Welkima's right, to begin your training.
Class Skills
| Skill Level | Skill | Power | MP | Effect | Information | Transferable |
| --- | --- | --- | --- | --- | --- | --- |
| 2 | Frost Buster Lv1 | 275 | 13 | Damage 1 enemy. | Ice dragon blast inflicts damage on enemy. | N |
| 3 | Magi Breath Lv1 | 680 | 23 | Damage 1 enemy. | Magic Flame pursues and inflicts damage on foe! | Y |
| 4 | Vital Breath Lv1 | Caster Lv x2 +10 | 23 | Heals target. | Hallowed dragon breath restores target HP. | N |
| 6 | Buster Shield | - | 5 | +3% HP, +3% Def for 10mins. | Dragon charm temporarily raises DEF & STA. | N |
| 7 | Voltech Buster | 315 | 16 | Damage 1 enemy. | Lightning dragon blast inflicts damage on enemy. | N |
| 10 | Frost Buster Lv2 | 925 | 39 | Damage 1 enemy. | Ice dragon blast inflicts damage on enemy. | N |
| 12 | Wind Shield | - | 8 | Wind/Water resistance +15% for 1min. | Barrier around target reduces wind & water elemental damage. | Y |
| 15 | Magi Breath Lv2 | 1345 | 69 | Damage 1 enemy. | Magic flame pursues and inflicts damage on foe. | Y |
| 17 | Grand Shield | - | 8 | Earth and Fire resistance +15% for 1min. | Barrier around target reduces earth & fire elemental damage. | Y |
| 20 | Vital Breath Lv2 | Caster Lv x4 +10 | 55 | Heals target. | Hallowed dragon breath restores target HP. | N |
| 25 | Voltech Buster Lv2 | 1200 | 48 | Damages 1 enemy. | Lightning dragon blast inflicts damage on enemy. | N |
| 30 | Kaotik Blast | 1475 | 83 | Damage 1 enemy. | Fires howl of dark dragon into enemy. | N |
| - | Infernal Blaze | 130 | - | Damage 1 enemy. | Wrap enemy in a dark inferno for damage. | N |
Stat Boosts
| Skill Level | Name/Effect | Active on other classes? |
| --- | --- | --- |
| 5 | Max HP + 10 | Yes |
| 8 | DEF + 50 | Yes |
| 18 | Max HP + 20 | Yes |
| 22 | D Buster's Arts 1 (INT + 20) | Buster-only |
| 24 | D Buster's Arts 2 (DEX + 20) | Buster-only |
| 26 | D Buster's Arts 3 (MND + 20) | Buster-only |
| 28 | D Buster's Arts 4 (AGI + 20) | Buster-only |
| 29 | DEF + 100 | Yes |